Construction from destruction
Posted by: marketing 7 years, 9 months ago
New River Valley Habitat for Humanity director Shelly Fortier stands in one of the units in the Oak Bridge apartment complex in Blacksburg. Habitat hopes to salvage as much of the materials and appliances as they can from the units during their "Unbuild" which will begin next week. Photo by Christina O'Connor special to The Roanoke Times
BLACKSBURG – In just more than a week the walls will start coming down at OakBridge apartments.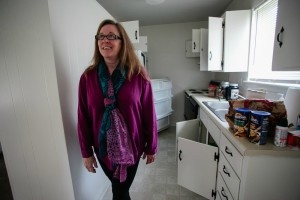 The razing of all 197 units is another step toward replacing the half-century-old complex with a more densely built student-oriented development called The Edge. Named for its proximity to Virginia Tech's campus just across Prices Fork Road The Edge is a new project of developer Jeanne Stosser whose Campus Management Group has run OakBridge since the 1990s.
But OakBridge will be the site of an unusual project before demolition or construction crews move in. A swarm of Habitat for Humanity volunteers plans to race through an "Unbuild Blast" – basically the reverse of the blitz builds where Habitat crews put up a house in a day or a weekend.
In the Unbuild Blast scheduled to begin at 9 a.m. Tuesday and last a week volunteers will strip appliances windows and other usable bits and pieces from as many of OakBridge's apartments as they can get to. Everything will be carted off to the Habitat ReStore in Christiansburg to be sold as a fundraiser.
The salvage effort is the first such project attempted by the New River Valley Habitat chapter said Shelley Fortier the chapter's new executive director.
And with an expected haul of more than 100 refrigerators more than 100 stoves and similar quantities of ceiling fans air conditioners and more it's "definitely the greatest single ReStore donation we've ever had" Fortier said last week.
"I see it as a real full-cycle gift" that raises money for Habitat gives ReStore customers a bonanza of new wares and assists Campus Management Group with clearing the site Fortier said.
Campus Management Group is happy to help the Habitat chapter – and to have help preparing for the new construction Stosser said as she and Fortier looked over the apartment neighborhood Thursday.
"There's no sense putting this stuff in a landfill" Stosser said.
Habitat workers have already started moving appliances out as student renters leave for the summer. The final leases at OakBridge end on Monday. The Unbuild begins the next morning and runs through May 27. After that workers will start leveling OakBridge. Continued salvage in some parts of the complex may or may not be possible beyond that point Stosser and Fortier said.
The Edge is designed to have 254 furnished apartments with 911 bedrooms – up from OakBridge's present 354 bedrooms – grouped in suites. Campus Management Group and development partner CampusWorks a company based near Charlotte N.C. plan to have new apartments ready in July 2014.
Stosser said that the $40 million construction of The Edge feels like a milestone. Acquiring and renovating OakBridge was her first big development project she said. Stosser and her sons now her business partners lived in OakBridge at various times.
Some of Stosser's projects like the Midtown Village proposal for the old Blacksburg Middle School that is now under a town review have met skeptical receptions from Blacksburg Town Council members. But Blacksburg Mayor Ron Rordam applauded The Edge Friday.
"The Edge is right across from campus and already a student housing area" Rordam wrote in an email. "It is ideal from an infill perspective.  Students can walk and bike as opposed to ride. This is a place where the density seems right."
For the Unbuild Blast the plan is to carry off appliances first then start on doors and windows Fortier said. A Tech group may turn the windows into cold frame kits that the ReStore can sell to gardeners she said.
Fortier said she has her eye on numerous other items around OakBridge like bulbs and plantings that she hopes gardening groups will help her retrieve. And she'd like a vinyl-coated chain-link fence that's around the swimming pool.
And picnic tables. And electrical breakers.
Of the breakers "I'm a little nervous about getting them" Fortier confessed.
Habitat has about 75 people a tractor-trailer two flatbed trucks and an array of pickups signed up. Fortier said she hopes to find more volunteers – like an electrician.
For the less-specialized work Stosser had an idea for finding helpers.
"Any of the students who are staying around" she said and grinned "and want to really tear up an apartment…" 
Share on Facebook
Recent Posts
Archive
2023
2017
2016
2015
Categories
Authors
Feeds
RSS
/
Atom